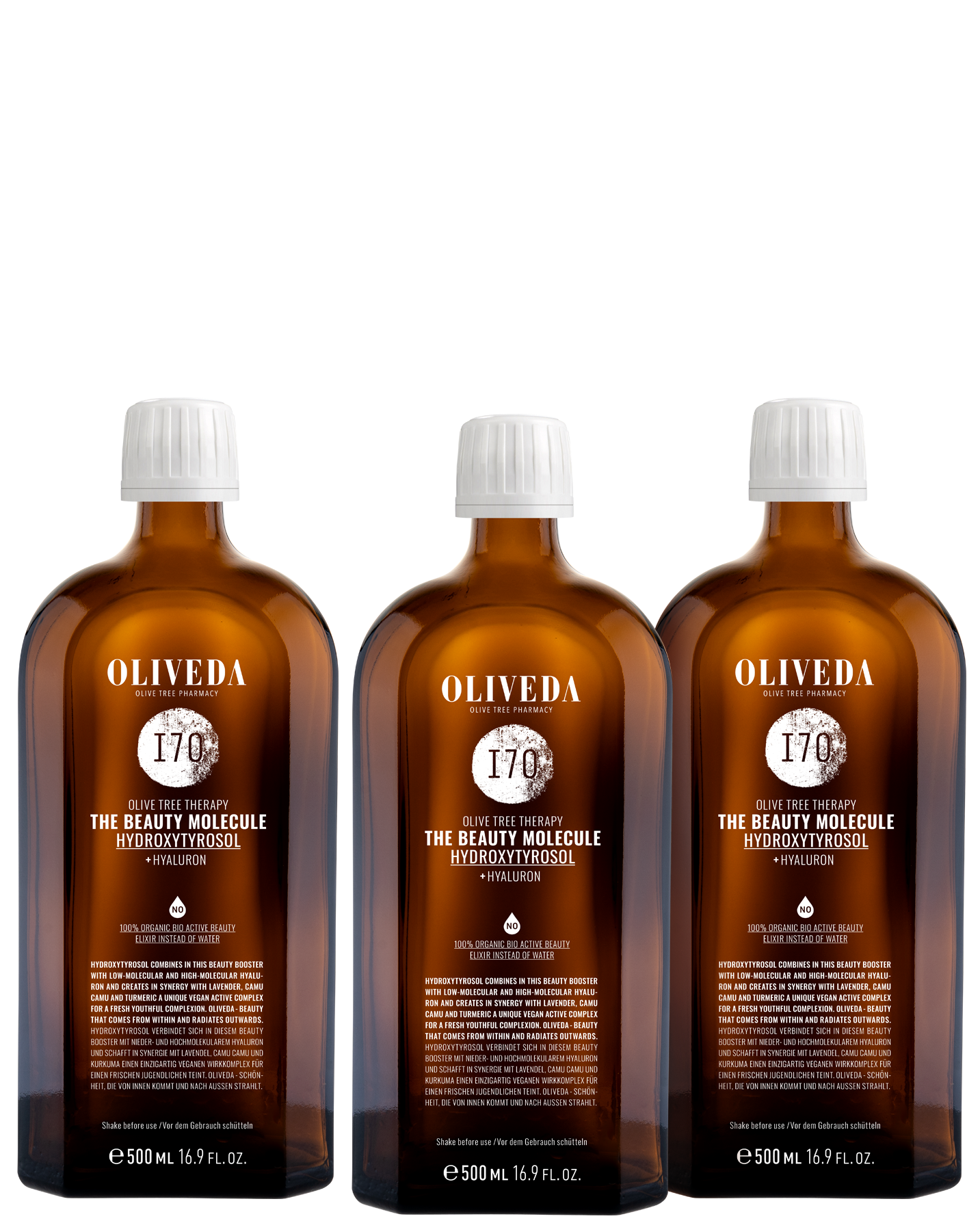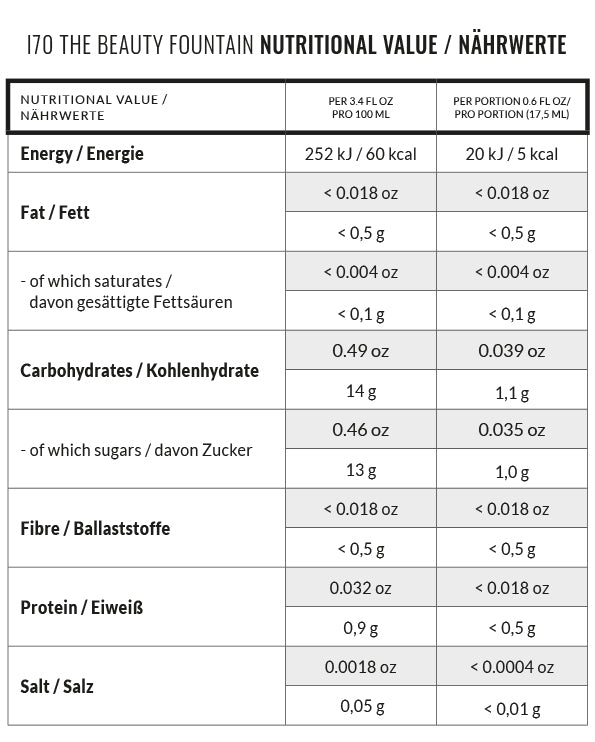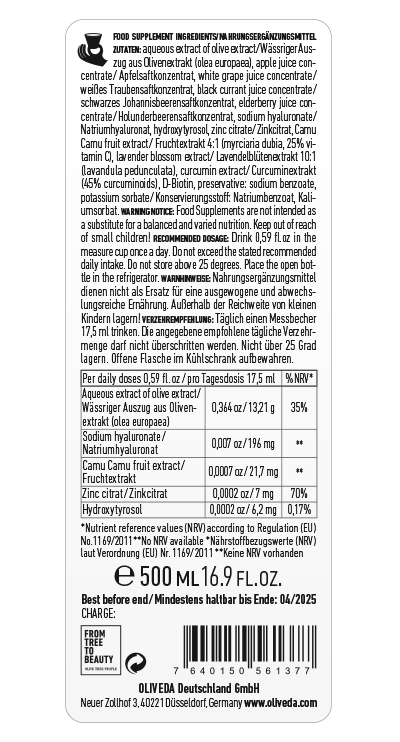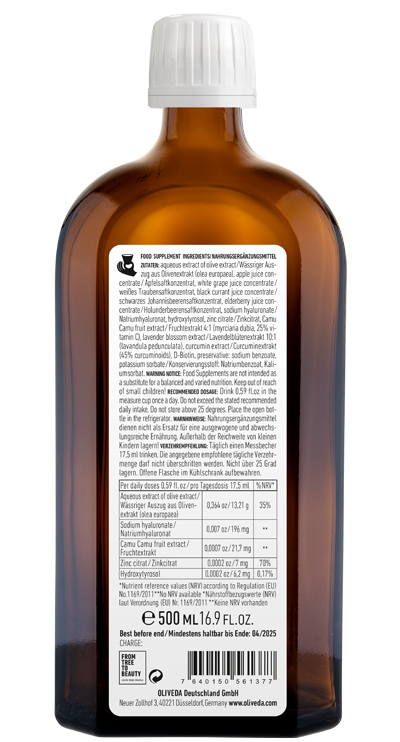 / 4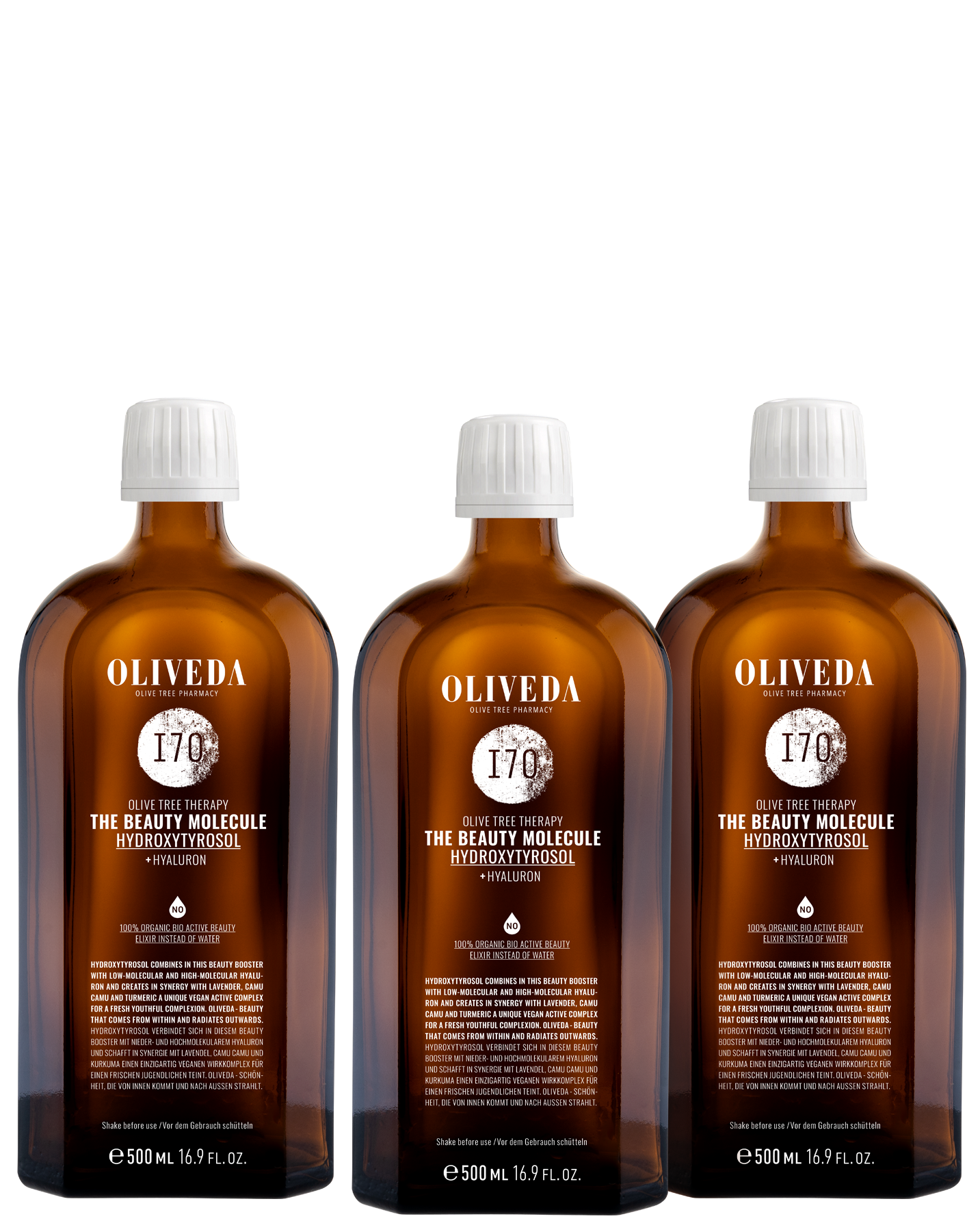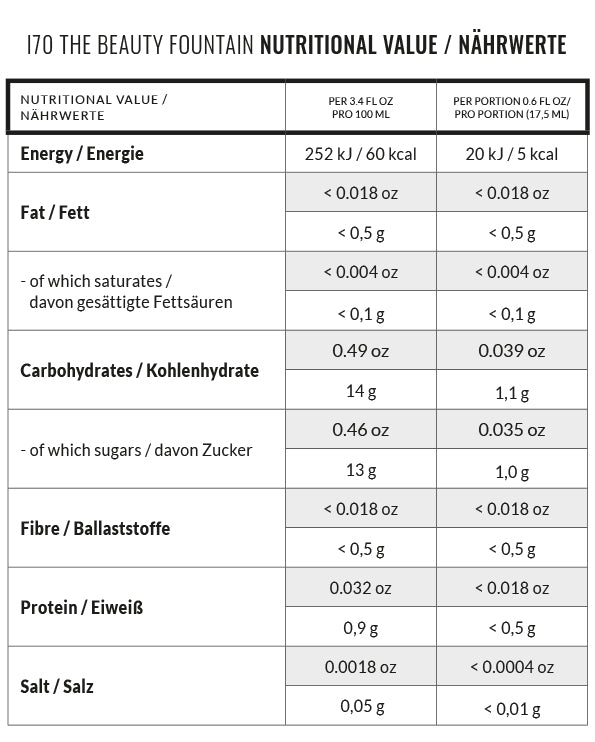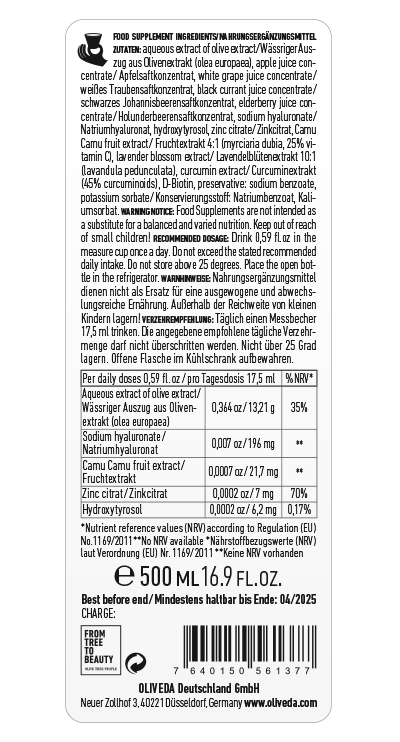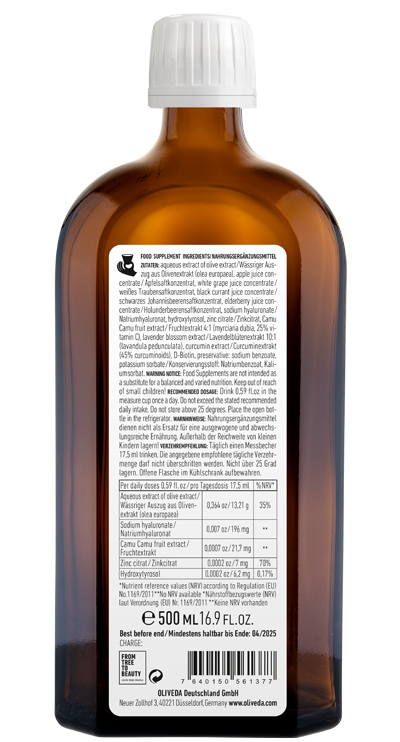 Not sure what you need?
OliveBrain will find you the exact products specially for your individual needs.
Ask OliveBrain
Benefit
Hydroxytyrosol combines in this beauty booster with low-molecular and high-molecular hyaluron and creates in synergy with lavender, camu camu and turmeric a unique vegan active complex for a fresh, youthful complexion. Holistic anti-aging power from nature - For beauty that comes from within and radiates outward.
The Revolution in Beauty - Cell Protection at highest level
•  finer pored, rosier and tighter skin due to hyaluron 
•  cells are optimally protected from oxidative stress by hydroxytyrosol 
•  strengthens the connective tissue and activates the immune system  
•  healthier and stronger fingernails

Your daily beauty shot - It works!
Recommended Consumption
Take one measuring cup of 17.5 ml in the morning or between meals. Do not exceed the recommended daily dosage. Recommended use for a period of at least 6 to 10 weeks. Do not store above 25 degrees. Once opened, please store the bottle in the refrigerator.
Warning
Food supplements are not intended as a substitute for a balanced and varied diet and healthy lifestyle. Store out of reach of small children!
Ingredients
aqueous extract of olive extract (olea europaea), apple juice concentrate, white grape juice concentrate, black currant juice concentrate, elderberry juice concentrate, sodium hyaluronate, hydroxytyrosol, zinc citrate, Camu Camu fruit extract 4:1 (myrciaria dubia, 25% vitamin C), lavender blossom extract 10:1 (lavandula pedunculata), curcumin extract (45% curcuminoids), D-Biotin, preservative: sodium benzoate, potassium sorbate.
Prima
Prima, schmeckt und hilft. Gerne wieder und weiter.
I70 Beauty Molecule
Der Geschmack ist sehr angenehm-nicht zu süß, schön fruchtig. Von der Wirksamkeit werde ich mich in den nächsten Wochen überzeugen lassen.
We love OLIVEDA
Meine Mama und ich haben die Drei-Monats-Kur von Dezember bis Ende Februar gemacht. Wir haben das Hyaluron und auch das Collagen täglich zu uns genommen. Die Veränderungen der Haut und Haare kamen schon nach 2-3 Wochen. Die Haut fühlte sich sehr genährt und schön gepolstert an, das Gesicht ist schön rosig dadurch geworden und wir hatten beide das Gefühl, dass unsere Haare deutlich schöner und glänzender sind. Man sah uns an, dass wir etwas umgestellt haben und wir haben unseren Freundinnen davon erzählt. Das Hyaluron schmeckt auch deutlich leckerer als das Collagen, aber die Effekte haben für sich gesprochen. Die Menge einer Flasche reicht genau für einen Monat aus, wenn man die Einnahme von 17,5 ml täglich beachtet. Seit März pausieren wir aufgrund der Empfehlung von einer Euren tollen Team Mitglieder und merken, dass uns die tägliche Einnahme fehlt. Die Haut ist nicht mehr so schön, die ersten Pickelchen kommen zum Vorschein und die Haut fühlt sich eher müde und schlaff an. Wir freuen uns sehr, dass wir im Juni wieder für 3 Monate die Kur machen und unsere Haut wieder total gut und erholt aussieht. Ich bestelle super gerne bei Euch, da die Verpackung so toll ist und mein Sohn dann viel Freude beim Auspacken hat. Auch wenn ich nicht gewinne, wollte ich Euch ein riesen Danke aussprechen für die tollen Produkte, die wirklich super ergiebig sind und auch sehr nachhaltig, für den tollen Service und dass jede auch so blöde Frage ganz schnell und super lieb beantwortet wird, da fühlt man sich einfach gut aufgehoben und fragt gerne :-)