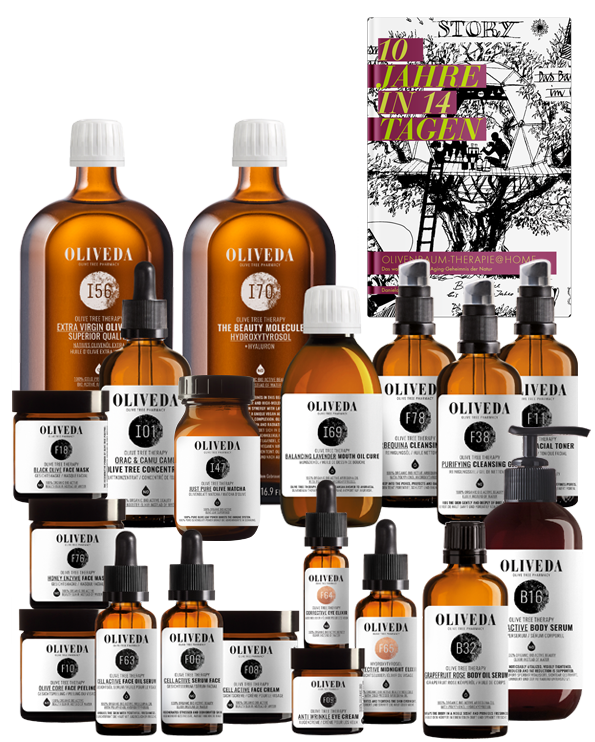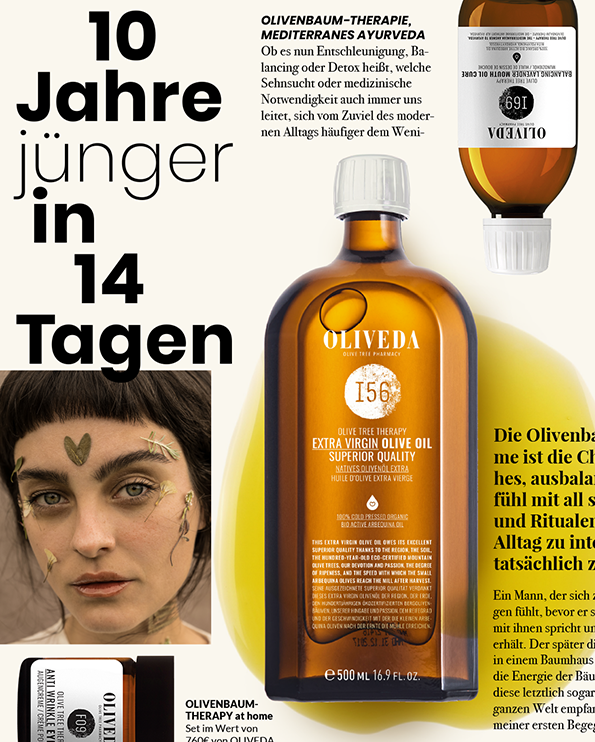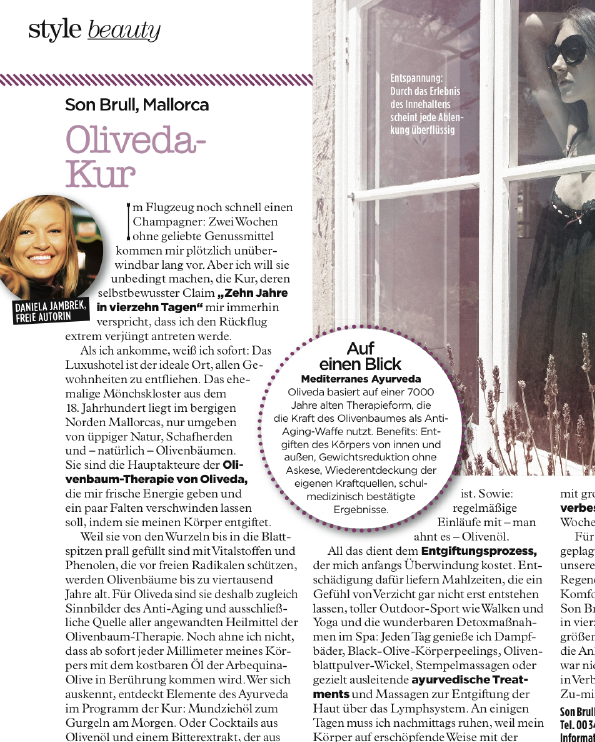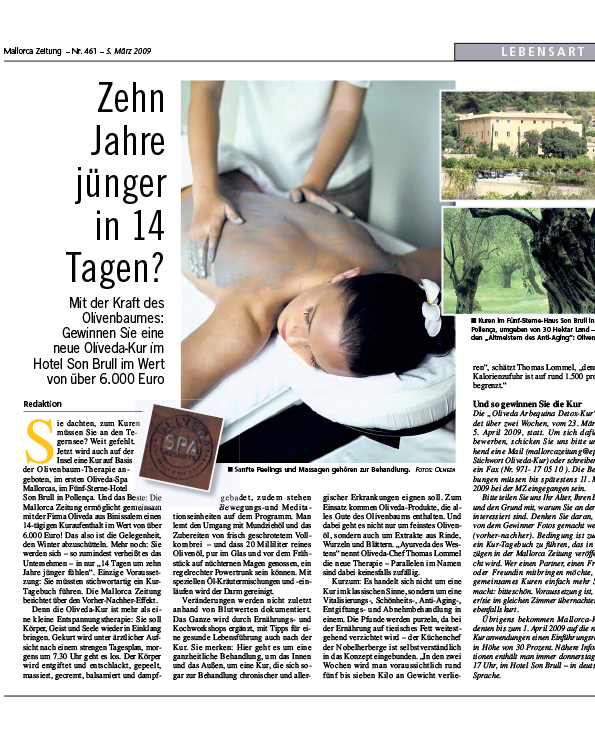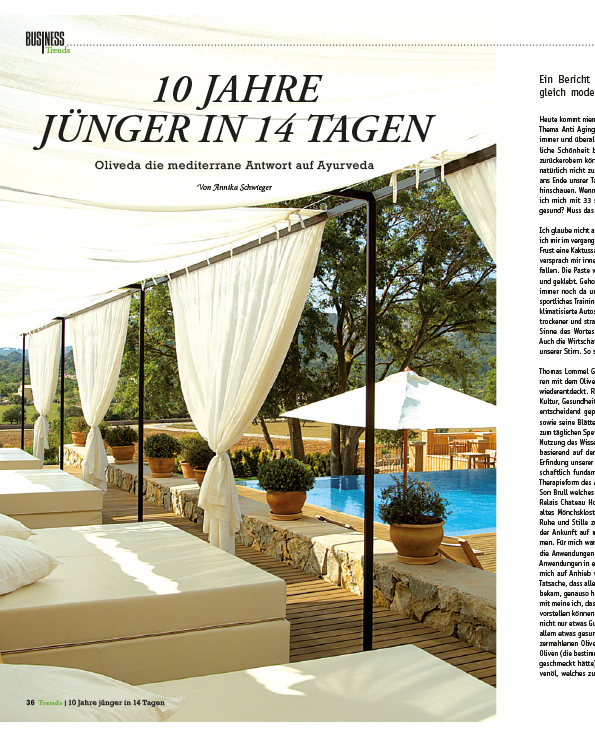 / 5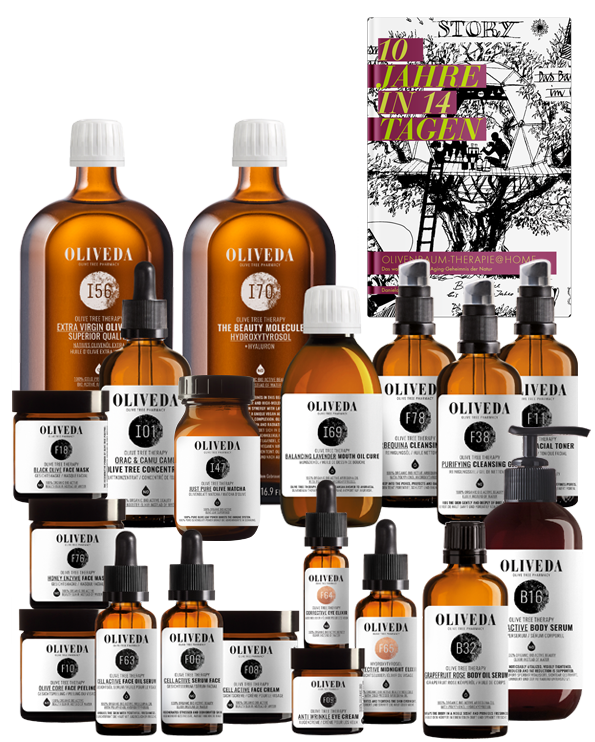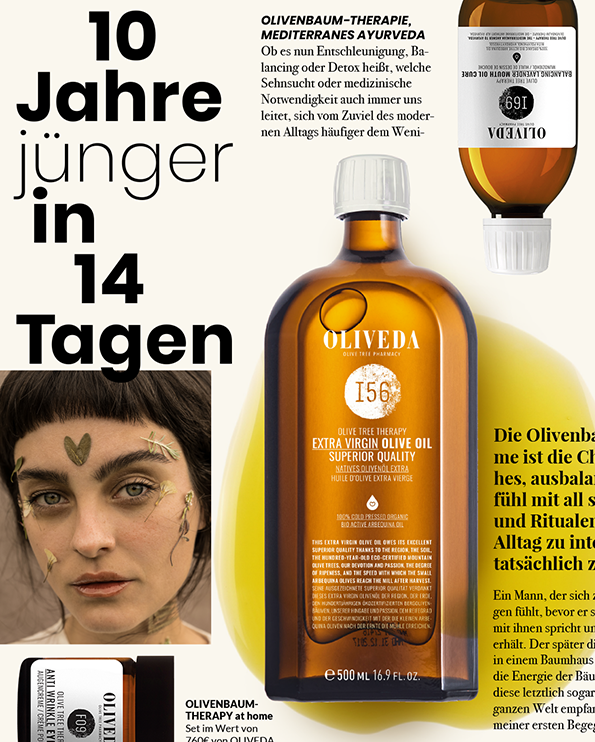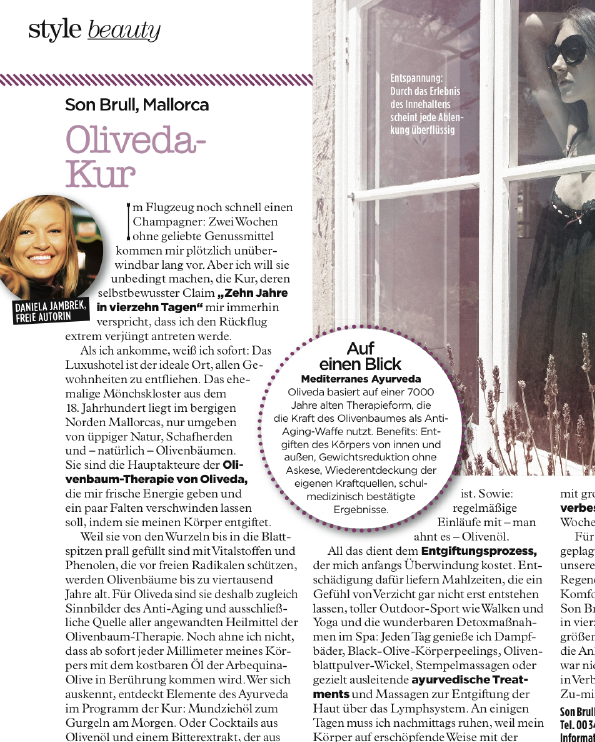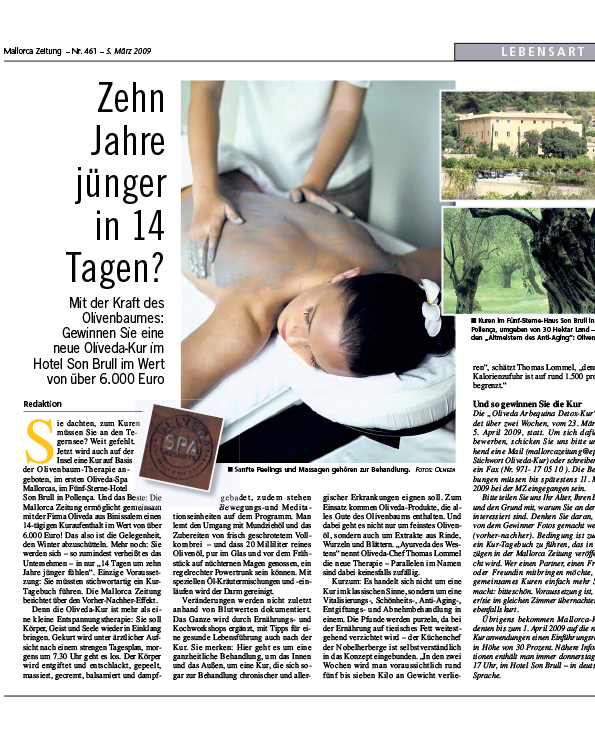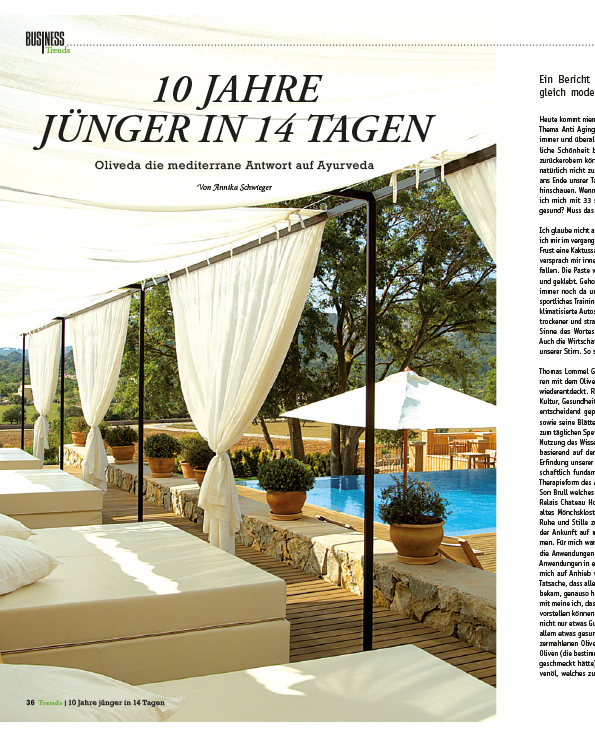 Not sure what you need?
OliveBrain will find you the exact products specially for your individual needs.
Ask OliveBrain
There are many reasons to choose the Olive Tree Therapy. Mental and physical balance, or the desire for a new attitude towards life are the subjective ones; improved blood values, a functioning metabolism, weight reduction and a significantly rejuvenated skin appearance are the measurable and visible ones.

01. I24 MOUTH OIL CURE MOROCCAN MINT (250 ml)

This fine oil binds pollutants that have accumulated in the mouth overnight and rids both it and the body of them. Bleeding gums and plaque on the tongue and teeth are reduced and receding gums quickly regain their balance. After 2-3 weeks, the complexion glows rosy-fresh and the skin appears more fine-pored. In addition, fat metabolism is stimulated and improved, and cholesterol levels are demonstrably lowered. The teeth also regain their natural whiteness and begin to shine again. The unique interaction between the olive tree polyphenols hydroxytyrosol and oleuropein, with the extract of medicinal herbs and Moroccan mint, forms an ideal synergy.

How to use: Every morning, before brushing your teeth, put a tablespoon in your mouth for 8-12 minutes, dragging and moving the oil back and forth between your teeth and in the roof of your mouth. It must be constantly in motion during this time. Then put the oil in atissue and dispose of it.

02. I56 EXTRA VIRGIN OLIVE OIL (500 ml)

In the natural reserve Arroyomolinos de León, where the olives for the multiple award-winning OLIVEDA Extra Virgin Olive Oil grow, they are harvested and sorted by hand as they have been for thousands of years. And with the greatest sensitivity: olives are extremely sensitive to pressure. If they are bruised or damaged in such a way that the flesh comes into contact with oxygen, an oxidation process begins in the fatty acids of the olives, which significantly reduces the quality of the oil. This makes harvesting the most laborious part of olive cultivation. Experienced pickers harvest nine to ten kilos of olives per hour - and if one assumes that four to nine kilos of olives are needed for one liter of oil, depending on the oil content of the fruit, it quickly becomes clear that a large part of the later selling price of a good oil must be invested in the harvest.

3. I01 ORAC & CAMU CAMU OLIVE LEAF CONCENTRATE (100 ml)

This small drinking cure contains a lot of defense power against viruses and harmful environmental influences: The fresh, green olive leaf cell elixir: The antioxidants contained in it, in concentrations up to 3000 times higher than in olive oil, act as a true protective shield. They fend off free radicals highly effectively and thus prevent premature skin aging. The world's most vitamin C-rich fruit Camu Camu: With 21,000 to 500,000 ppm ascorbic acid, it exceeds the vitamin C content of oranges by a factor of 30, is rich in iron and thus protects against viruses and harmful environmental influences.
With the concentrated vitality of the olive tree in this bottle, you will not only increase your well-being. You will simultaneously experience a harmonization between body and mind. The addition of the world's most vitamin C rich fruit, the Camu Camu, creates a synergy of taste and effect. ORAC stands for: Oxygen Radical Absorption Capacity and describes the antioxidant value.

How to use: Shake before use. 2 pipettes or 1 teaspoon pure or together with juices (e.g. with freshly squeezed orange juice) 2-3 times before meals. Up to 10 ml a day. Children over 2 years of age take half of the recommended daily ration for adults, up to 5 ml a day. The recommended daily ration should not be exceeded. Once opened, please store the bottle in the refrigerator.

4. I70 THE BEAUTY MOLECULE (500 ml)

Hydroxytyrosol combines in this beauty booster with low-molecular and high-molecular hyaluronic acid and, in synergy with lavender, camu camu and turmeric, creates a unique vegan active complex for a fresh, youthful complexion. OLIVEDA - beauty that comes from within and radiates outwards (16,9 fl.oz.).

The beauty revolution - cell protection at the highest level:

• finer-pored, rosier and firmer skin thanks to hyaluronic acid
• cells are optimally protected from oxidative stress by hydroxytyrosol
• strengthens the connective tissue and activates the immune system
• healthier and stronger fingernails

Your daily beauty shot - It works! Worldwide unique: The Beauty Molecules's hyaluronic and hydroxytyrosol act synergistically. This vegan beauty booster is complemented by lavender, blackcurrant, turmeric, camu camu and black elder. For the best possible results and the maximum increase in hyaluronic content, each beauty shot (17.5 ml of measuring cup) contains at least 6.3 mg hydroxytyrosol for ideal protection againt oxidative stress (an ESFA study indicates that a daily intake of 5.3 mg hydroxytyrosol causes perfect protection of the cells from oxidative stress) and fabolous 200 mg hyaluronic. For optimal results, the 200 mg hyluronic per shot is divided into 50% high molecular and low molecular weight of hyaluronic acid. The result of the intake is a radiant, fresh, firm and youthful skin that gives the OLIVEDA Beauty Plump Effect.

5. F78 ARBEQUINA CLEANSING OIL (100 ml)

This legendary bioactive Arbequina Cleansing Elixir Oil with cashmere-like texture combines with the lipid layer similar to it, supporting the renewal process of our skin. It moisturizes and gives the complexion a soft and gentle appearance with less visible pores. For the ultimate and in-depth luxurious cleansing experience. Olive Tree Beauty Complex provides softer, smoother and hydrated skin as the optimal base for an exquisite makeup finish. The precious ingredients of hydroxytyrosol, vitamin E, french lavender, argan and oleuropein work in synergy in the spirit of Olive Tree Therapy for the proven perfect cell protection of our skin. The bioactive Arbequina Cleansing Elixir Oil effortlessly removes all make-up residues and impurities deep into the pores without affecting the skin's natural protective barrier.
Application: Apply 3-4 pump strokes to the palm of the hand and gently apply to dry face. Then slightly moisten the skin, emulsify the oil and rinse thoroughly.

6. F38 CLEANSING GEL PURIFYING (100 ml)

A gentle foaming cleanser, based on our fresh olive leaf cell elixir. Mild herbal sugar surfactants rid the skin gently, but deeply into the pores, of make-up, sebum, and dirt particles. The olive polyphenols and hydroxytyrosol oleuropein supply the skin with highly concentrated antioxidants that effectively fight free radicals, while it refines pores. The skin is soothed, revitalized, and moisturized leaving nothing but a fresh feeling, and a velvety-soft and vibrant tone that radiantly glows.
Application: Lather with a little water in the hands and gently massage on the face. Rinse thoroughly.

7. F11 FACIAL TONER ACTIVATING (100 ml)

The invigorating effect of this refreshing facial toner sets in directly after cleansing while it washes away facial residues and bringing back the natural balance to your skin. As the chamomile extract soothes, the flexing power of our Olive Leaf Cell Elixir kicks into effect with its olive based polyphenols and hydroxytyrosol oleuropein to clear away skin impurities, thanks to their natural antibacterial properties. It refines pores and gives your skin tone a more radiant, pure glow and perfectly readies it for any subsequent care.
Application: In the morning and evening after cleansing, place the product in the palm of your hand, apply to the face and neck and press gently with your hands. Avoid the eye area.

8. F10 FACE PEELING OLIVE CORE (60 ml)

This fine facial scrub is based on our highly effective, fresh olive leaf cell elixir. The cell sap contains both olive polyphenols and hydroxytyrosol oleuropein to supply the skin with highly concentrated antioxidants. The finely ground olive stone granules, from the small black Arbequina olive, gently removes dead skin and creates a fresh, smooth skin look- without drying out or causing irritation. Suitable for all skin types, including individuals with extremely sensitive, irritated, and/or stressed skin.
Application: Apply the peeling to the wet skin in gentle movements and rinse with water. Apply once a week or as needed.
9. F18 FACE MASK BLACK OLIVE (60 ml)

Die This rich face mask, made from pureed black Arbequina olives, is a true moisturizing booster. It replenishes dehydrated skin of that which it has lost. It nourishes, relaxes, regenerates, and improves the skins elasticity and resilience. Through the highly effective, fresh olive leaf cell elixir; the care-effect is intensified manifold over. The skin again radiates with a healthy glow; rosy-fresh and young. Well suited for individuals with very sensitive, irritated, or sun-stressed skin.
Application: Apply to clean, dry skin avoiding the eye area. Leave for 10 minutes and then remove with plenty of lukewarm water. Recommended 1-2 times a week.

10. F76 FACE MASK HONEY ENZYME (60 ml)

This enzymatic peeling mask frees the skin from dead skin cells, refines the pores and leaves the complexion radiant and even. Honey moisturizes the skin and has a soothing effect. Papain, an enzyme derived from papaya, activates the natural regenerative power, the topmost skin cells are removed and the skin is vitalized. The luxurious Arbequina oil provides a velvety soft skin feeling.
Application: Apply to cleansed, dry skin, avoiding the eye area. Leave on for 10 minutes and then remove with plenty of lukewarm water. Recommended 1 - 2 times a week.

11. F06 SERUM FACE CELL ACTIVE (30 ml)


This highly concentrated F06 Serum Face strengthens, tones, repairs and regenerates stressed and dehydrated skin with its highly concentrated anti-aging power. The elixir of fresh olive leaf cells contained in this serum is a true fountain of youth that is quickly absorbed into the skin. It moisturizes, nourishes and refines pores, reduces dark spots and smoothes wrinkles with immediate effect. The skin regains its vitality and shines with a youthful glow.
Application: Shake before use. Apply a few drops on the face in the morning and evening, avoiding the eye area. The ideal foundation under the face cream.

12. F63 FACE OLI SERUM CELL ACTVIE (30 ml)

The Cell Active Face Oil nourishes your skin, gives it a youthful look and leaves you with a dozen of great options! The "OLIVEDA GLOW" complex and the active mountain olive tree ingredients give your cells more energy which makes your skin look more smooth, alive and vibrant. Also, the high quality combination of exclusive mountain olive tree super anti-oxidants protects the skin from negative enviromental impact. The Cell Active Face Oil owns every attribute that makes the OLIVEDA oils so special: super delicate arbequina oil originated from a natural reserve, cold extraction and the insertion of olive leafs into the oil for a few weeks - for a maximum amount of anti oxidants and nutrients. The rich oils are absorbed quickly and deep into the skin leaving it visibly nourished.
Application: Apply after cleansing in the morning and evening in combination with Olivedas F06 Cell Active Serum Face. For this, you can add our serum face to the palm of your hand and, depending on the amount of serum, add 3-4 drops of the Cell Active Face Oils. Mix, apply, shine!

13. F08 FACE CREAM CELL ACTIVE (50 ml)

In this highly effective face cream, the full regenerative power of olive polyphenol hydroxytyrosol unfolds. It strengthens the natural protection of cellular proteins, thereby extending their lifespan, and significantly reducing the first visible signs of aging. The skins natural, vital functions are brought into balance, reinforcing the communication between living cells and significantly improving the elasticity of the skin. The active olive-power ingredient, oleuropein, combats adverse environmental elements from taking any effect. This cream is also perfectly suitable as a night cream!
Application: Apply to the face in the morning and evening, avoiding the eye area.

14. F64 EYE ELIXIER CORRECTIVE (12 ml)

The OLIVEDA Lifting Eye Elixir is based on a triple hyaluronic acid structure, combined with the unique mountain olive tree hydroxytyrosol, the para cress jambu extract and panthenol. This exclusive OLIVEDA active ingredient complex enhances the natural activity of the cells which gives your eye area a more lifted and radiant look. Also, the fine skin around the eyes is being strengthened and smoothed in a gentle way which makes it perfect for challenging and sensitive skin. The eye area looks rejuvenated, lifted and beautiful.
Application: Shake the bottle before use. Apply a drop of the elixir and massage gently around the eye area.

15. F09 EYE CREAM ANTI WRINKLE (30 ml)

This gentle eye cream contains a combination of active ingredients of olive leaf cell elixir and extracts from the black, sun-ripened Arbequina olive. These moisturize the delicate area around the eyes, while it tightens and softens visible lines and small wrinkles. Crow?s feet are gently smoothed away, and puffiness under the eyes effectively reduced. Hydroxytyrosol and oleuropein act as true shields against harmful external influences allowing the eyes to appears more alert, awake, and refreshed. Perfect for sensitive eyes and contact lens wearers.
Application: Apply daily to the eye area avoiding the upper lid. Gently tap into the skin.

16. F65 MIDNIGHT CORRECTIVE FACE ELIXIER (30 ml)


OLIVEDA Midnight Elixir Corrective combines retinol, arbequina and kahai oil with the patented "hyaluron in oil complex" and the regenerating super olive tree antioxidant hydroxytyrosol. The result is a unique active complex that regenerates and tightens the skin overnight, reduces wrinkles and enhances the luminosity of the skin while you sleep. The delicate fragrance of bergamot and neroli relaxes the senses and makes them feel calm. Warm lily, tuberose and ylang-ylang blend with sweet caramel and honey and beguiling cedarwood and musk to create an exciting and harmonious mix.
Application: Shake the bottle before use. In the evening, apply a few drops of Midnight Elixir to the palm of your hand and spread evenly with the fingertips on cheeks, forehead, chin and décolleté.

17. B32 BODY OIL GRAPEFRUIT ROSE (100 ml)

Our 100 % organic body oil is the perfect moisture and nutrient dispenser that is extremely appealing due to its extremely fine texture that is completely absorbed into the skin. Worldrenowned Arbequina Extra Virgin olive oil combined with our own extra virgin wheat germ oil, are fused together to combat blemishes and reduce scar tissue. It cushions, smoothes, and softens the skin granting it a silky smooth texture and letting it luster again. Rose extract envelops the body in a fine aroma while tangy grapefruit provides a touch of freshness.
Application: Massage well in the morning and in the evening. For best results, always massage the body oil after bathing or showering alternately with the other 3 body oils.

18. B16 BODY SERUM CELL ACTIVE (250 ml)

This serum is based on the highly effective fresh olive leaf cell elixir. Olive leaf and black Arbequina olive extracts detoxify and purify the body. Our Hibiscus extract, containing essential fatty acids and antioxidants, visibly tighten skin, reduces cellulite, and endorses the loss of fat cells. The skin is noticeably and immediately revitalized; and small creases, for example on the décolleté, are smoothed. Suitable for all skin types; especially for individuals with extremely sensitive skin.
Application: Massage well into the arms, legs, buttocks, body and décolleté every morning and evening for 5 minutes. For best results, always use body serum after bathing or showering.

19. I48 OLIVE MATCHA BEAUTY CLEANSER (30 g) 

This refreshing and aromatic tea composition lets the skin glow through ground olive leaf matcha, green mint, tangy lime and red chilli. Our olive matcha based on the finest ground olive leaves. Ground whole, the leaves retain their up to 3,000 fold concentration of vital nutrients than what is found in olive oil; promoting pure, beautiful, radiant skin from within. Our invigorating matcha is rich in vitamins and antioxidants that energize the body and boost the immune system.
Recommended Consumption: As a tea, 1 g (= 1/2 tsp.) Of the powder is poured with 100-500 ml of boiling water. Suitable for immediate enjoyment. There are no limits to the creative handling of this superfood.

20. BOOK MEDITERRANEAN AYURVEDA

For those who want to start with the olive tree therapy, the book "10 years in 14 days" can be downloaded for free behind.
Vielen vielen Dank, dass ich wieder ich sein kann!
Ich habe dank der persönlichen Beratung von Oliveda die empfohlenen Produkte gekauft! Ich muss zugeben, dass ich zunächst skeptisch war. Schon viel zu oft war ich von derart gehypten Produkten enttäuscht worden. Schon am 3. Tag nach der Einnahme von The Beauty Molecule spürte ich selbst eine Besserung meiner Haut und meines Bindegewebes. Die Haut wirkte wesentlich hydrierter, das Bindegewebe schien fester. Meiner Mutter fiel dies auch auf, weshalb sie direkt mit einstieg. Nach einer Woche schließlich hatte ich morgens einmal keine Zeit mich komplett zu restaurieren. Seit Jahren war ich nicht mehr ohne Make Up aus dem Haus gegangen. Ich habe keine klassische Problemhaut, doch mit mittlerweile 38 Jahren gibt es nun mal ein paar kleinere Falten, Pigmentstörungen, die in der Familie liegen und die eine oder andere Rötung. Ich fühlte mich nicht unwohl. Eher etwas nackt. Als ich an diesem Tag dann tatsächlich bis auf Mascara und meine Oliveda Pflege einkaufen ging, passierte das Unglaubliche. Ich wurde nicht einmal oder zweimal von Bekannten angesprochen, sondern auch von meiner Lieblingsapothekerin und Kassiererin aus dem Supermarkt – ganze 3 Mal an einem Tag. Ich wurde gefragt, ob ich schwanger oder verliebt sei, weil ich so strahlen würde, so prall und gesund aussähe. Dreimal von drei vollkommen unabhängigen Personen und Zeitpunkten. Was soll ich sagen?! Ich bin nicht schwanger und nicht verliebt. Außer nun in meine Haut! Seit diesem Tag trage ich keinerlei Make Up mehr. Ich fühle mich wohler. Leichter. Frischer. Schöner! Ich kann Oliveda tatsächlich gar nicht genug danken! Dies ist keine Schmeichelei! Ich bin absolut so überzeugt und glücklich und fühle mich endlich wieder wohl in meiner Haut!
Vielen vielen Dank, dass ich wieder ich sein kann!
Wie immer, perfekt.
Ich liebe die Produkte von Oliveda.
I love Oliveda!
I became aware through my two sisters. Both got super skin and were just raving. So I tried it out too. I have always had slight problems with my skin and somehow never found the right one. I have been using Oliveda for about three months now. My skin has improved since then and the promised glow is really there. I use so far almost the compl. facial cleansing and care (face cream, mask, oils, serum, cleansing gel, toner, etc.) For about three weeks I also use the Inside products (tooth oil, CamuCamu extract, Hyaluron Drink, etc.) My husband has also found joy in one or the other product. Maybe they still want to develop a men's series!? I am also already totally looking forward to the new Hemp series, as I am already convinced of Hemp products and with Oliveda together is certainly super. Many thanks also for the so far super customer service. Very helpful, friendly and competent. Keep up the good work! My sisters and I are your fans.
Endlich OLIVEDA in meinem Leben
Ich bin sehr begeistert von den Oliveda-Produkten! Nun habe ich diese einige Monate testen können und kann berichten!
Ich kämpfe schon seit Jahren mit unreiner Haut! Mittlerweile bin ich 32 Jahre alt und habe die Hoffnung auf eine bessere Haut aufgegeben. Seitdem ich die Olivedaprodukte benutze, strahlt meine Haut. Die Unreinheiten gehen zurück! Das ist der Hammer! Ich habe selten neue Entzündungen, es ist eher so, dass die vorherigen anfangen abzuklingen. Die Haut fühlt sich auch einfach nur schön an und so langsam traue ich mich auch ohne Make Up raus. Das hatte ich noch nie! Ich habe so viele verschiedene Produkte ausprobiert und keine haben mir geholfen! Entweder war die Haut zu fettig oder zu trocken und immer mit Unreinheiten verbunden. Auch hatte ich bei anderen Produkten Bedenken wegen den Inhaltsstoffen und war mir nicht sicher, was ich in der Schwangerschaft benutzen soll. Da kam Oliveda genau richtig!
Endlich habe ich das passende Produkt für mich gefunden! Danke Oliveda!!!